The cake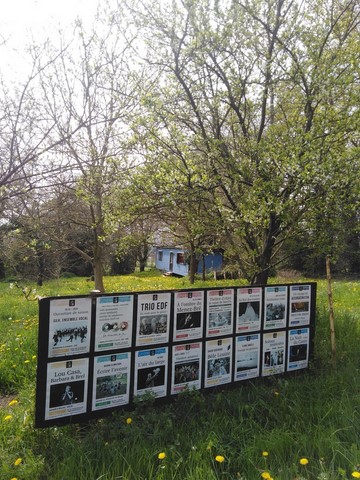 March 30, 2021. I discover the barn-theater. What the hell is this?! Would the universe have finally answered my prayers?? Excuse me, I'm resuming. We don't say "brothel" to the universe. We say "gratitude", otherwise he understands "brothel", and then it can really be. Brothel. It is to clarify that I could hardly utter another word because the month of March had left me on the carpet, in a fucked-up state near Ohio, morale at zero.

It was a friend I met around the neighborhood composter who had told me about this place (the barn-theater), while I told her about my desire to find, for almost four years, my very beautiful place to develop a project of artistic creation and collective experimentation. The owner Hervé, whom she knew a little, had said yes to her for the visit. Never mind. We leave by truck, direction Thourie (smile!). You'll find out why: before I even see it, I already have the deep conviction that I'll be recording there.

On this 30th of March, the sun is shining brightly. The spring that feels like it has been warms my still sore little body. The jolts of the truck to get to port add a layer. And yes we are at the bottom of the countryside, at the crossroads of Ille-et-Vilaine and the Loire-Atlantique.

But how is it that I, who have gone through all the little concert venues around Nantes in the past, have missed it? Mystery… Perhaps because here we are in Brittany (the Nantes woman is joker). A kind of Gaulish irreducible place where obviously there are very nice things going on: concerts, training courses, festivals, residencies, etc. I arrive with my little entrepreneurial file under my arm, you never know...
Hervé welcomes us for lunch. He is already at work… in his chaise longue!

I discover my eyes wide open and discreetly check all the boxes in my file throughout the day. And this view, but this view! The universe (or the corner druid) is serving me a birthday cake in advance, it's huge!
We enjoy our shared meal in the sun. Then we visit the place, we remake the world, the universe and we morally sign this recording contract. I can hardly believe it. I'm going back a little shaken up. I have my place to record.

A few weeks later, Hervé agreed to receive me in writing residence. The opportunity to taste the place, create a new song and prepare the ground for the fall.
Morality: If you have a neighborhood composter, you better go.
I promise on Friday, I'm talking about my purely female team.
See you.